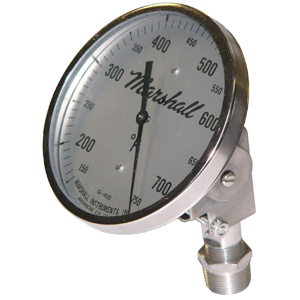 Frequently Asked Questions
Products > Bimetal Thermometers
Model ADJ-5: 5" Adjustable Angle Dial
Item: ADJ-5

Marshall Instruments offers 5" heavy duty, industrial bimetallic thermometers with a versatile case and stem that can be adjusted to almost any angle for easy viewing. The head can be rotated and the stem positioning moves over 180 degrees. These thermometers are rugged and preferred by the process, offshore, power, pharmaceutical and chemical industries. The connection is 1/2" NPT. The thermometers may be glycerin or silicone filled for vibration dampening. Glass lens is standard, a plastic lens is available as an option. Standard stem diameter is 0.25" and heavy duty stems are available. A spiked stem tip is available. Stem length can be custom ordered from 2.5" to 92" in 1/4" increments. Accuracy is 1% in the middle of the scale.



DIAL: 5"
STEM DIAMETER: .25"
CONNECTION: 1/2" NPT
HARNESS: Head can be angled 180 DEG.
CONSTRUCTION: All stainless steel construction.
EXTERNAL RESET: Easy to recalibrate.
ACCURACY: +/- 1% in the middle of the scale.
HERMETIC SEAL: Weather tight.
LENS: Glass
OVER RANGE: 50% to 500 DEGF and 10% over 500 DEGF.


1/4" or 1/2" NPT.


18-8 Type 304 stainless steel, .250 diameter. Lengths from 2 1/2" to 92".


Model ADJ-5: 5" diameter.


This product is proudly made in Anaheim, California USA.