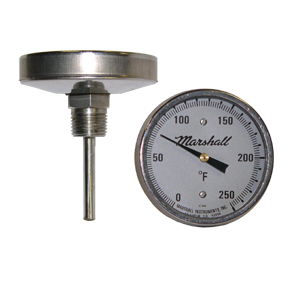 Frequently Asked Questions
Products > Bimetal Thermometers
Model E: 3" Dial
Item: E

Marshall Instruments offers 3" heavy duty, industrial bimetallic thermometers. These thermometers are rugged and preferred by the process, offshore, power, pharmaceutical and chemical industries. 1/2" NPT center back connection is standard. Other connection types are available. Cases may be liquid filled for additional dampening of extreme vibration, or to assure consistent performance in low process temperature/high environmental humidity applications. Glass lens is standard, a plastic lens is available as an option. Standard stem diameter is 0.25" and heavy duty stems are available. A spiked stem tip is available. Stem length can be custom ordered from 2.5" to 92" in 1/4" increments. Accuracy is 1% of full scale.



DIAL: 3"
STEM DIAMETER: .25"
CONNECTION: 1/2" NPT Center Back
CONSTRUCTION: All stainless steel construction.
ACCURACY: +/- 1% of scale.
HERMETIC SEAL: Weather tight.
LENS: Glass
OVER RANGE: 50% to 500 DEGF and 10% over 500 DEGF.


All stainless steel head, bezel and mounting. Flat window standard.


1/2" NPT.


18-8 Type 304 stainless steel, .250 diameter. Lengths from 2 1/2" to 92".


Model E: 3" diameter.


This product is proudly made in Anaheim, California USA.